Do you need to modify your iOS device's location for testing or accessing content that is not available in your region? If so, you might be interested in using AimerLab MobiGo. This powerful tool allows iOS users to modify their device's location to simulate any location in the world. In this step-by-step guide, we'll walk you through the process of modifying your iOS location with AimerLab MobiGo.
What is AimerLab MobiGo?
AimerLab MobiGo is a powerful tool that allows iOS users to modify their device's location without a jailbreak. With this tool, you can simulate any location around the world with just one click. AimerLab MobiGo is available for both Windows and macOS, making it a versatile tool for users of different operating systems.
AimerLab MobiGo can meet all of your needs when it comes to changing iOS location:
Play games like Pokemon Go without leaving your current location.
Access geo-restricted content, including videos, movies, and music.
Share your virtual location on social media to make a trick.
Change location on dating apps to get more matches or meet more people.
Hide your location to stop apps from tracking you.
AimerLab MobiGo Main Features
1-Click to teleport iOS location to any place on the earth without jailbreaking or rooting.
Use joystick to adjust the direction of movement at any time.
Import the GPX file to quickly start the routes that you wish.
Customize speed to simulate a more natural movement.
Simultaneously change the location of up to 5 iOS devices on a PC or Mac.
Works perfectly with all location-based apps, such as Pokemon GO, Facebook, Tinder, etc.
All iOS devices and versions are supported, including the latest iPhone 14 and iOS 16.
AimerLab MobiGo Modes
AimerLab MobiGo offers three different modes for changing your iOS device's location: Teleport Mode, One-Stop Mode, and Multi-Stop Mode. Each mode in AimerLab MobiGo is designed to offer a different level of precision and flexibility, depending on your specific needs.
Here's an overview of each mode:
Teleport Mode: The Teleport Mode allows you to change your location instantly to any location in the world. This feature is particularly useful for accessing geo-restricted content and apps that are not available in your region. To use Teleport Mode, simply select your desired location on the map or enter the address in the search bar, and click on the "Get Started" button.
One-Stop Mode: The One-Stop Mode lets you simulate movement between two spots. To use this mode, you need to set the route between the start and endpoint, and MobiGo will simulate along this route automatically.
Multi-Spot Mode: The Multi-Spot Mode enables you to select multiple spots and create a route between them. This mode is useful when you want to simulate a travel route, such as for testing location-based apps or services.
AimerLab MobiGo Tech Specs
Supported OS & Devices

Windows: Win 11/10/8.1/8/7
Mac: Mac OS X 10.13 (High Sierra),10.14 (macOS Mojave), 10.15 and later (macOS 12 Monterey included)
All iPhone/iPad/iPod versions and devices.

Hardware Requirements:

CPU: 1GHz (64-bit) or higher
RAM: ≥256 MB (1024 MB is recommended)
Free Hard Disk Space: ≥200 MB

Supported Languages:
English, German, French, Spanish, Portuguese, Italian, Japanese, Chinese (Simplified and Traditional)
Supported Applications:

Games: Pokemon Go, Jurassic World Alive, Minecrafet Earth, Ingress Prime, Wizards Unite, etc.
Social apps: Facebook, Youtube, Snapchat, Spotify, etc.
Dating apps: Tinder, Bumble, Grindr, Hinge, etc.
Other apps: Find My iPhone, Life360, Google map, etc.
How to Modify Your iOS Location with AimerLab MobiGo?
let's take a closer look at how to modify iOS location using AimerLab MobiGo.
Step 1: Download AimerLab MobiGo from the official site, then install it.
The first step is to download and install AimerLab MobiGo on your computer. The software is available for both Windows and macOS, so make sure to choose the appropriate version for your system.
Step 2: Establish a connection between your iOS device and your computer.
Launch AimerLab MobiGo on your computer, click "Get started" and connect your iOS device to your computer using a USB cable or wireless WiFi.
Step 3: Choose a Mode to change location
Once the connection is established, your current location will be displayed on a mag under "Teleport Mode" by default. You can also choose one-stop mode or multi-stop mode that suits your needs most.
Step 4: Choose the destination you wish to teleport
Use the search bar at the top of the screen to find the location you want to simulate. Alternatively, you can zoom in and out of the map to manually find the location. Once you've found the location, click on it to select it.
Step 5: Modify Your iOS Location
After selecting the location you want to teleport, AimerLab MobiGo will display the details of the location, such as the latitude, longitude and distance. Click on "Move Here" and MobiGo will teleport you to the selected location in seconds.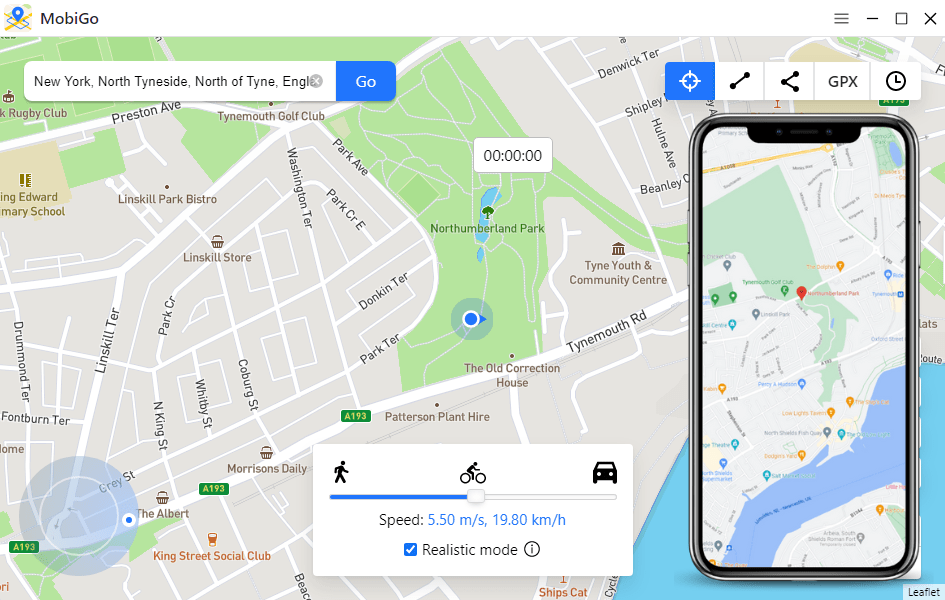 Step 6: Verify That Your iOS Location Has Been Modified
To verify that your iOS location has been modified, open any location-based app on your device, such as Google Maps or Pokemon Go. You should see that your device is now located at the location you selected with AimerLab MobiGo.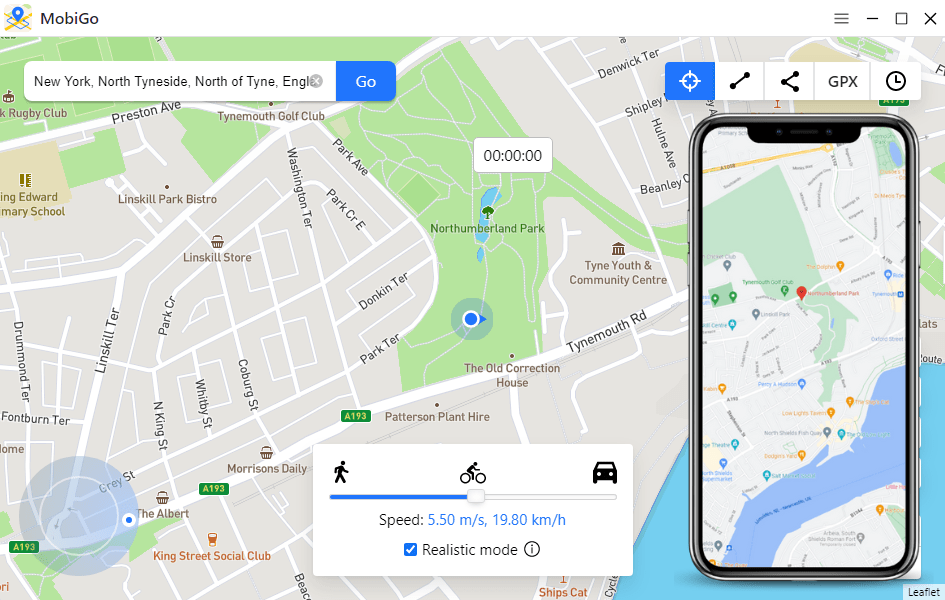 Conclusion
In conclusion, AimerLab MobiGo is a powerful software tool that uses advanced GPS spoofing technology to modify your iOS device's location. With its easy-to-use interface, multiple modes, advanced encryption, and compatibility with a wide range of iOS devices, AimerLab MobiGo is a reliable and effective way to simulate any location in the world on your iOS device. So why not give it a try and see for yourself how easy it is to simulate any location on your iOS device?