Effectively managing a company's ownership structure is critical to its success and growth trajectory. For understanding and distributing equity among stakeholders, a thorough Capitalisation Table, or "cap table," serves as the foundation.
This blog explores the top ten CapTable Management Platforms, each created to give companies a simple and precise way to track ownership data, ensure compliance, and make defensible equity distribution decisions.
What is a Capitalisation Table?
A capitalization table, also known as a "cap table," is a document that offers a thorough analysis of a company's ownership structure. It outlines the ownership interests held by different parties, such as the company's founders, investors, workers, and other equity holders. The table shows the different types of securities (such as common stock, preferred stock, and options) and the proportions of shares that each party owns.
A cap table also shows crucial information like the company's valuation, the share price, and any potential dilution that might happen due to the issuance of new shares or the exercise of stock options.
Why Do You Need a CapTable?
A capitalization table, which acts as a detailed ledger of the ownership structure, is essential for any business. It specifies who, including the company's founders, investors, workers, and any other stakeholders, owns how much equity in the company. The importance of this document cannot be overstated. It first aids in determining the value of each share and valuing the company. Making knowledgeable decisions about funding rounds, equity allocation, and potential exits is also facilitated by it.
Top 10 CapTable Management Platforms
Qapita
The CapTable management from Qapita is made to assist businesses in managing their capitalization tables electronically. The platform is extensive and customizable, and it offers a single source of truth for all equity-related issues. Over 1,800 businesses and 190,000 employee-owners trust the platform.
Carta
The equity management platform Carta offers an all-inclusive approach to handling all equity-related issues for a company from conception to initial public offering (IPO). The CapTable management service from Carta is made to assist businesses in managing their capitalization tables electronically. Over 35,000 private companies and startups trust the platform because it offers accurate, real-time cap table updates.
Ledgy
Ledgy is a state-of-the-art platform for managing CapTables that is intended to simplify equity management for scale-ups and startups. Ledgy gives businesses the tools they need to track ownership data effectively and decide how to distribute equity by providing features like scenario modelling, real-time updates, and compliance reporting.
AngelList Equity
For early-stage startups and venture-backed businesses, AngelList Equity specifically offers a powerful CapTable management solution. AngelList Equity offers a complete platform for managing ownership structures during a company's growth journey with tools for equity issuance, compliance, and investor relations.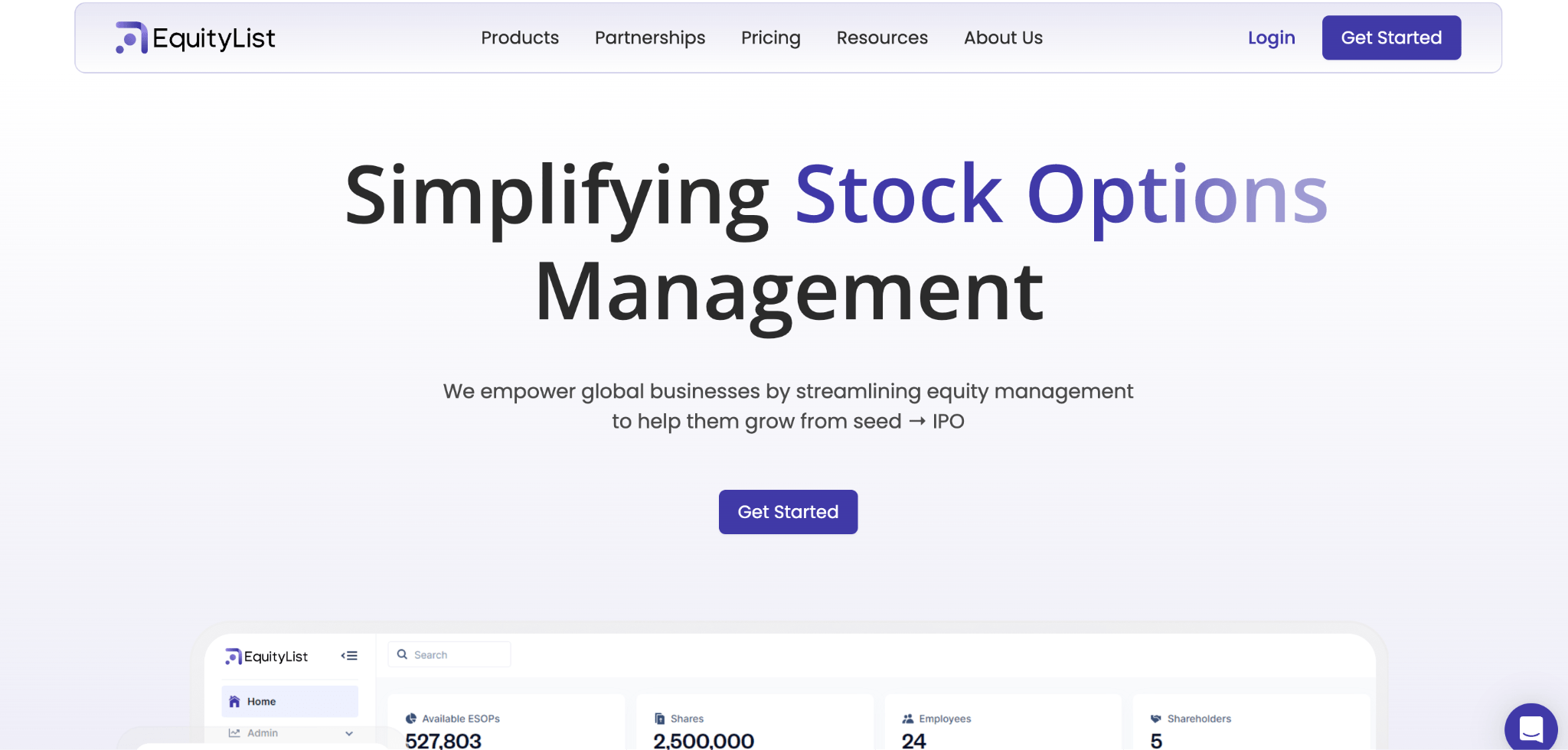 LTSE Equity
CapTable management solutions designed for businesses aiming for long-term success and sustainability are LTSE Equity's area of expertise. With tools like automated compliance reporting and thorough equity insights, LTSE Equity helps companies stay in line with their long-term strategic objectives while maintaining accurate ownership records.
Capshare
Capshare is an easy-to-use cap table management platform that makes equity tracking easier for startups and private companies. Capshare equips companies to manage ownership data effectively and guarantee regulatory compliance with its user-friendly interface, robust reporting tools, and support for equity plans.
Angeloop
The comprehensive cap table management solution provided by Angeloop is intended to meet the requirements of both early-stage startups and established businesses. Angeloop offers a flexible platform for businesses of all sizes to efficiently manage their ownership structures with features like automated equity calculations, scenario modelling, and compliance tracking.
Astrella
Astrella is an expert in providing cap table management services that are tailored to the particular requirements of private companies and their stakeholders. Astrella empowers companies to keep accurate ownership records and streamline communications with investors with a focus on accuracy and compliance, ensuring transparency and trust.
Vega Equity
Vega Equity offers a comprehensive CapTable management platform designed to assist startups and growing businesses. Vega Equity provides businesses with the tools they need to effectively manage their ownership structures and make informed decisions about equity distribution, including automated equity calculations, scenario modelling, and investor reporting.
Conclusion
For any small businesses or enterprises attempting to navigate the complexities of ownership and equity distribution, efficient cap table management is essential. The highlighted platforms, including Qapita, Carta, Ledgy, and others, are excellent examples of how technology can revolutionize and streamline this critical process. These platforms enable businesses to make knowledgeable decisions and uphold transparency with stakeholders by offering precise, real-time updates and a centralized hub for all equity-related matters.